Water for Tomorrow
Tap into Cannon's water resource experience to drive your next project. We provide elegant solutions to complex projects from wells, to wastewater, to watershed management with expertise and efficiency. Long-term performance on hundreds of miles of pipeline, millions of gallons of water storage, and effective stormwater management during peak storm events are all successes that speak for themselves.
Why Partner with Cannon?
Fully in-house team covers all engineering disciplines in addition to a fully licensed survey team allowing Cannon to handle all water resource projects with skill and unmatched efficiency. 

Large, deeply experienced team of senior-level water resource engineers.

Certified hydraulic modelers, capable of surge/transient analysis. 

Decades of experience including the successful design of: hundreds of miles of pipeline, water storage facilities accounting for millions of gallons of capacity, many large-scale pump stations, PRV and sewage lift stations. 

Unmatched client service.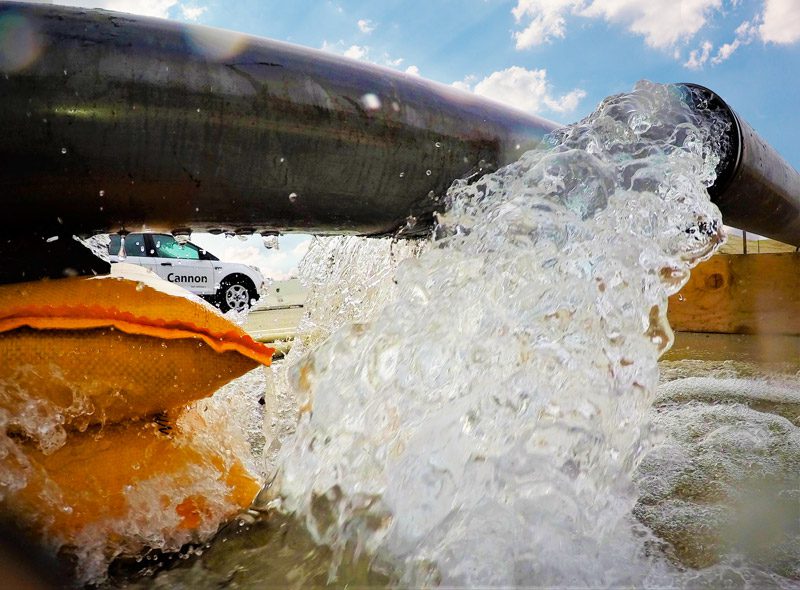 Cannon's extensive water resource team has been built over the years to take on projects in-house from start to finish. From well equipping to reservoirs and tanks, our designers focus on efficiency and cost on all projects, no matter the size.
Transmission and Distribution
Reservoirs and Tanks
Operations and Maintenance
Potable / Recycled Water Systems
Regulatory Compliance
Well Equipping
Services
Engineering and Design
Seismic Evaluations
Urban Water Management Plans
System Master Planning
Capital Improvement Program Development
Water Conservation
Hydraulic Modeling
Pump / Booster Station and Pipeline Design
Pumps, Valving, and Enclosures
Process Selection and Control
Disinfection Systems
Site Design
Permitting
Contract Documents and Specifications
Cost Estimating
Fire Flow Analysis and Testing
Surveying, Mapping, and Laser Scanning
Construction Management and Inspection
Automation / SCADA
Our experienced team is fully versed in all aspects of wastewater management from collection, to treatment, to reuse. Whether your project needs comprehensive design, or existing infrastructure retrofit, we have the in-house capability to meet your project needs.
Collection
Treatment
Regulatory Compliance
Operations and Maintenance
Reuse
Services
Master Planning and Modeling
Engineering and Design
Sewer System Management
Salt Management Programs
Feasibility Studies
Infiltration / Inflow / Video Analysis
Lift Station Design
Facility Design and Evaluations
Operations and Maintenance Studies
Condition Assessments
Metering and Flow Analysis
Effluent Disposal Operations and Maintenance
Surveying, Mapping, and Laser Scanning
Construction Management
Automation / SCADA
From comprehensive flood plain analysis to stormwater detention, diversion and infiltration, Cannon has decades of experience in designing robust and efficient stormwater solutions.
Stormwater
Groundwater Quality
Flood Control
Services
Engineering and Design
Flood Plain and Watershed Analysis and Mapping
Salt Nutrient Management Plans
Hydrology and Hydraulics
Low Impact Development (LID)
Storm Water Pollution Prevention Plans (SWPPPs)
NPDES Permitting
Retention / Detention Basins
Erosion / Sediment Control Plans
Grading and Drainage Design
Bank and Shore Protection
System Master Planning
Cost Estimating
Surveying and Mapping
Construction Management
Stormwater
Since the 1950s, the coastal community of Oceano experienced chronic flooding during storm events due to insufficient storm drain capacity. The flooding was compounded by the Arroyo Grande Creek's reduced capacity over time from sedimentation and dense vegetation growth. The Oceano Drainage Improvement Project was implemented to solve roadway flooding.